Golden State Warriors star Kevin Durant is focused on building a future after basketball
The story of When Kevin Met Rich began at a Jay-Z concert back in 2008. Kleiman was representing the rapper Wale. Wale knew Durant because they both were from the DC area. Before the show, Jay-Z's manager invited Durant backstage to meet HOV himself. In a moment of 19-year-old self-doubt, Durant balked. A bad case of impostor syndrome set in.
"I was just a rookie," Durant says. "Who the f— am I to go in there? Like, I'll probably walk in there and see Kobe or LeBron. I can't be sitting in there, talking with them yet. I ain't up there on that level."
Kleiman loves telling this story. It's still the essence of his relationship with Durant. He's always begging Durant to talk more about the business and philanthropic ventures they've built together. Durant is always humbly stepping away from the spotlight. Because while Durant can impose his will on the basketball court, he's still a bit reluctant to flex off of it.
"I know Rich wishes I'd do that more: stand up for what I've done," Durant says. "But at the same time, I'm not trying to go overboard with it. We're not looking to set the flag up and say, 'Yo. This is Thirty Five Media all around the world. Make sure you pay attention to us!'
"
In this sense, Durant knows exactly who he is. He's not a hustler or a hype man. He's a hooper who needs people like Kleiman and Thirty Five Ventures marketing whiz Sarah Flynn to build his business and brand for him. The company has 10 employees at the moment, but it is moving into a new office building in New York City as it continues what Durant insists is a careful expansion. "I just feel like you can do it more of a strategic way," he says. "If you put yourself out there too much and then underdeliver … that's not good."
Kleiman laughs. If Durant is more comfortable downplaying their accomplishments and ambitions, he's fine with it.
"If I was left to my own devices, I turn into Flava Flav sometimes," Kleiman jokes. "It doesn't affect my job, my pay, my ownership, nothing, if people in Prince George's County don't fully understand the magnitude of what Kevin is doing [in opening the Durant Center]. However, it keeps me up at night — on behalf of him. That's how much I want [recognition] for him."
This reluctance to self-promote is part of the reason Durant was intrigued by the concept of the show. He knew he couldn't be the only athlete who took time to find his footing in the business world or questioned whether he belonged in Jay-Z's dressing room.
"I did not have the experience to be in that room," Durant says of himself as a rookie. "Once I started to get experience, I had something to give back in those conversations. I was more comfortable."
It took him almost a decade to get there, though. And even now, he finds himself asking more questions of the accomplished people he meets with than answering them.
"The cool part about KD on the show is you're watching him learn with you," Williams says. "Nobody is trying to say, 'Hey we're the leaders of the free world and we know everything there is to know.' This is like an exploratory journey."
---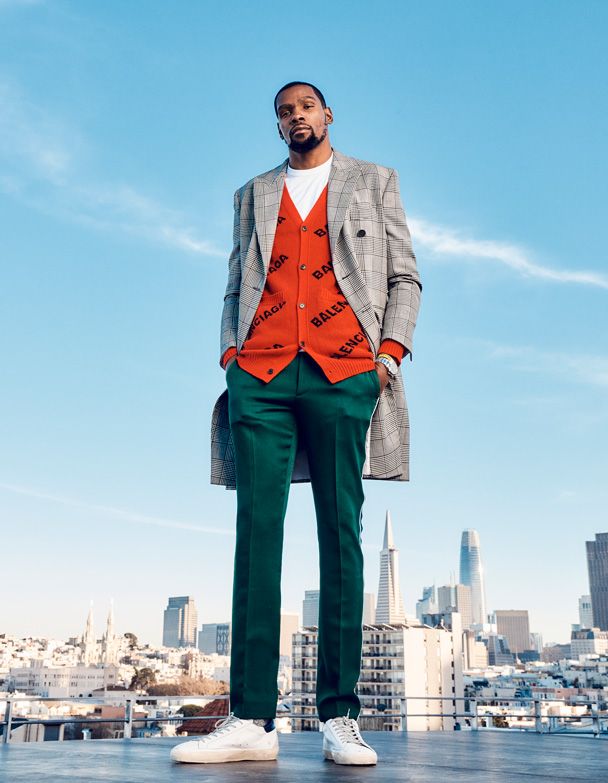 For Durant and Kleiman, Williams was the perfect choice to host the show. They felt that his own story of venturing into the business world — his professional playing career was ended by a motorcycle accident only a year in — gave him a unique perspective.
As the No. 2 pick of the 2002 NBA draft, he had the same kind of golden pathway laid out as Durant did as the No. 2 pick five years later. "I'm 18, 19 years old, and I'm sitting there watching Puff [Daddy] play the piano, [Scooter Braun] is pitching me on signing with Bad Boy, and I'm like, 'How the hell is any of this happening?'
" he says.
"Back then nobody really saw how inefficient the model was. Your agent has 25, 30 other people and then they hire one marketing director who was just splitting his time."
Then it all went away. His second career had to begin before his first one ever got off the ground. And he started asking the types of existential questions you can see only once your existence has been fundamentally altered.
"I just think that you have guys now that are driving the car, whereas before they would sit in the back and let ownership drive the car," Williams says. "The currency has changed. Guys still do endorsement deals, but now it's not about endorsements, it's about, how do I own equity? How do I get a 10 multiple on what my investment is?"
In the past two decades, the best athletes have fundamentally changed the business of sports in much the same way Jay-Z and Diddy changed the music industry. Why let the record label own your songs — or your agents control your image — when you can produce, distribute and own them yourself?
It happened organically at first. Then the Warriors took it to a new level. Players such as Andre Iguodala and Stephen Curry started getting chummy with the venture capitalists and digerati who drove up from Silicon Valley to sit courtside at Warriors games. By the time the team went to the Hamptons to pitch Durant on joining as a free agent in 2016, the opportunity to immerse in the Bay Area's vibrant business scene was a major selling point.
"It was like, 'Listen, man, we're a family. We're gonna embrace your interests,'" Iguodala says of how the team talked to Durant. "'I mean, you're gonna turn it into business anyway. So we can help out in any way possible, and we got an ownership who feels the same way.'"
Joe Lacob, Warriors owner and venture capitalist, says he does whatever he can to create a culture that encourages personal growth and exploration.
"I was really good as an investor for 30 years. But I always knew that in my second life — I wanted to have a whole other business life, because it reinvigorates you," Lacob explains. "And to me that was about sports. So I left completely from the VC industry and went to do this full time.
"While you're in your primary career, I think you're trying to prepare for your second career. And hopefully by the time your first career has reached a normal logical end point, then you're ready to dive in and do it in a big way. That's what happened for me. That's what these guys should do too. They're not gonna be experts in investing while they're players, but they can be learning. And learning from meeting top people, learning from a few investments. So that by the time they're done, hopefully they're ready to take the next step, make that into a second life."
---
Ask Durant what he wants to be doing in his second life, after his playing career ends, and he sounds a bit like Phil Jackson. "I could be off in Montana on a ranch over by the water. Or living on the slopes. I don't know what I could be doing. I just like what I'm setting up for myself now — something sustainable."
At 30 years old, he has a lot more basketball to play, and huge decisions about where he'll spend the rest of his career still to make. For now, he's focused on building a legacy on and off the court, starting with a $10 million investment in the learning center that bears his name.
But before he gets to that center's opening ceremony, he needs to make a stop. It's nearly 4 p.m., and he hasn't had time for lunch. So as Durant and his team head from the Warriors' swanky team hotel in Georgetown to Prince George's County, his caravan of SUVs pulls over at a convenience store for a croissant and some candy. No matter how far Durant travels in life, the sweet tooth comes with him. As a kid growing up on these streets, Durant would often stop at the McDonald's where his brother worked and fill up his water cup with Sprite.
On this day, he's telling that story to the first group of children who will be supported by the Durant Center.
"I told them that this building has my name on it, but it's yours," Durant says. "You're going to spend more time here than I will. Make it your home."
Durant had been wanting to expand his charitable giving in the same way he'd expanded his business portfolio. Real money — in this case, a full third of his current yearly salary of $30 million — that would actually make a difference to kids who were walking the same path he once walked. In 2018 alone, he donated a total of $3 million to the basketball and sports leadership programs at the University of Texas and committed this $10 million (over 10 years) to the Durant Center.
"That's doing something," he says. "We make a lot of money, so we should be able to give it back."
Just a handful of media entities were invited to the opening of the learning center, and he sent all of them away when he met privately with a small group of the 59 students in the inaugural class, who will participate in after-school tutoring, summer programs and personal development workshops throughout high school and even college.
"I can remember being a high schooler here, living next door," Durant says. "I was the No. 2 player in the country, and me and my mom were living in a two-bedroom right next door to here. You're waking up in the struggle still."
He looks around the gym at Suitland High, where he attended ninth grade. It is packed with people who knew him then, or like to claim they did. A group of high schoolers follows him everywhere, hoping for advice — or maybe just a selfie.
Durant seems genuinely moved.
"That's what life is about," he says.
He seems to be making an effort to connect with each person reaching out, even if it's just a quick interaction. It wasn't so long ago that he was too afraid to approach Jay-Z in his dressing room, too shy to ask for advice — or maybe just a selfie. Sometimes the barriers to entry are self-made. If he can help others find their confidence, that feels important.
It is both dizzying and inspiring — the culmination of 30 years of work and self-discovery but also a first attempt at shaping a legacy.
"We all like different things," he says. "We're all going to do different things. But something's going to bring us together. Maybe it's here."
This story appears in ESPN The Magazine's March issue. Subscribe today!
Shelburne is a senior writer for ESPN and has written stories on
Reports: Bears to cut K Parkey in March
After a difficult season culminated by a crucial missed field goal on a potential game-winning field goal in the NFC playoffs, kicker Cody Parkey will be released by the Chicago Bears when the new league year begins in March.
FILE PHOTO: Sep 17, 2018; Chicago, IL, USA; Chicago Bears kicker Cody Parkey (1) watches his field goal during the first half against the Seattle Seahawks at Soldier Field. Mandatory Credit: Patrick Gorski-USA TODAY Sports
According to multiple reports on Friday, the team intends to cut ties with Parkey once the NFL free agency period begins on March 13.
Parkey, who turned 27 on Tuesday, endured an inconsistent season in Chicago after inking a four-year, $15 million contract last winter following the team's release of Robbie Gould, the Bears' all-time leading scorer who moved on to the San Francisco 49ers.
Parkey, a five-year veteran, not only missed a career-high seven field-goal attempts and three extra points during the regular season, but his 43-yard attempt in the final seconds of the NFC wild-card round against the Philadelphia Eagles first hit the upright then the crossbar before bouncing back on the field.
Despite the NFL later ruling that the kick was partially blocked, Parkey took much of the public blame for the Bears' season ending.
Parkey began his career with the Eagles in 2014 when he made the Pro Bowl as a rookie, scoring a franchise-record 150 points while making 32 of 36 field-goal tries. In two seasons with the Eagles, Parkey never missed an extra point.
Parkey later kicked for the Cleveland Browns in 2016 and Miami Dolphins in 2017.
In January, the Bears signed Tulsa product Redford Jones after conducting a workout that reportedly included multiple hopefuls. Jones made 50 of his 67 field-goal attempts at Tulsa from 2015-17, and he does have a kick on his resume where he hit both uprights. Unlike Parkey's double-doink, though, that 2016 attempt against Cincinnati ended up going over the crossbar for three points.
"We need more production out of that position," Bears general manager Ryan Pace said last month after signing Jones. "We know we need to get better there, and it will be an area of focus."
—Field Level Media
WTA roundup: Bencic upsets Svitolina to reach Dubai final
Belinda Bencic secured a spot in the final by stunning two-time champion Elina Svitolina 6-2, 3-6, 7-6 (3) on Friday at the Dubai Duty Free Championships in the United Arab Emirates.
Tennis – WTA Premier 5 – Dubai Tennis Championships – Dubai Duty Free Tennis Stadium, Dubai, United Arab Emirates – February 22, 2019 Switzerland's Belinda Bencic in action during the Semi Final against Ukraine's Elina Svitolina REUTERS/Satish Kumar
Bencic trailed 5-3 in the final set before recovering to defeat the sixth-seeded Svitolina. She will face second-seeded Petra Kvitova in the championship match after the Czech Republic star defeated Taiwan's Su-Wei Hsieh 3-6, 6-2, 6-4.
"I think I'm always the most proud of how I fight," Bencic said after posting the victory. "Even when I lose, I learned myself to just look in the mirror and be proud of myself when I'm fighting, when I'm giving my all, when I'm trying to do what I have to do."
Bencic won eight consecutive points after Svitolina was in position to close out the match. Then the Switzerland native carried the momentum into the tiebreaker to notch one of the biggest victories of her career by outdueling the Ukrainian.
"Basically, I stayed in the zone, even in (the) tiebreak," Bencic said. "I was barely breathing, just playing automatic. You are not thinking any more. It's where the instincts just guide you through it."
Bencic will be seeking her third career title when she squares off with Kvitova, who will be shooting for her 27th.
Kvitova dropped the first set on Friday before recovering to win the last two.
"It was a tough one today, for sure," Kvitova said. "She really didn't give me anything for free. It was a tough first set. I'm glad that I was able to came back in the second. I didn't play great at the end of the first.
"I think I'm pleased with my kind of mental focus after losing the first set, that I was calmer when I came back and played from the beginning of the second set. I still kind of felt that I can do that somehow. I don't know. It was something weird."
Kvitova overcame eight double faults to claim the victory.
Hungarian Ladies Open
Top-seeded Alison Van Uytvanck defeated Ukraine's Kateryna Kozlova 3-6, 6-1, 6-4 to advance to the semifinals in Budapest.
Van Uytvanck, of Belgium, will face fifth-seeded Ekaterina Alexandrova in the semis. The Russian dispatched third-seeded Frenchwoman Pauline Parmentier 6-3, 6-2.
Eighth-seeded Marketa Vondrousova of the Czech Republic will face Russian Anastasia Potapova in the other semi. Vondrousova outlasted Romania's Irina-Camelia Begu 5-7, 6-1, 6-3 while the 17-year-old Potapova fought past Romania's Sorana Cirstea 6-4, 6-7 (5), 7-5 in 2 hours, 50 minutes.
—Field Level Media
Patriots owner Robert Kraft facing charges of solicitation of prostitution
New England Patriots owner Robert Kraft is facing charges of misdemeanor solicitation of prostitution after he was twice videotaped paying for a sex act at an illicit massage parlor, police in Florida said Friday.
The 77-year-old Kraft was one of 25 people involved in the alleged solicitation at the Orchids of Asia Day Spa in Jupiter.
Michael Edmondson, spokesman for the state attorney's office in Palm Beach County, told ESPN that the nature of any charges that the 25 people face will not be released until next week.
Kraft has denied wrongdoing.
The potential charges come amid a widespread crackdown on sex trafficking in Florida from Palm Beach to Orlando. Hundreds of arrest warrants have been issued in recent days as result of a six-month investigation, and more are expected. Ten spas have been closed, and several people charged with sex trafficking have been taken into custody.
Police said they secretly planted undercover cameras in targeted massage parlors and recorded the interactions between men and the female employees.
In a statement, a spokesperson for Kraft said they "categorically deny that Mr. Kraft engaged in any illegal activity. Because it is a judicial matter, we will not be commenting further."
The NFL said it is "aware of the ongoing law enforcement matter and will continue to monitor developments."
The individuals named as having solicited prostitutes could be facing either a first- or second-degree misdemeanor for each count. A second-degree charge carries up to a 60-day jail sentence and a $500 fine; a first-degree charge carries up to a year in jail and a $1,000 fine.
Most people charged for the first time with soliciting a prostitute in Florida are allowed to enter a diversion program, said attorney David Weinstein, a former prosecutor. Kraft would have to perform 100 hours of community service and pay to attend an educational program about the negative effects of prostitution and human trafficking.
Jupiter Police Chief Daniel Kerr said he was shocked to learn Kraft, who is worth $6 billion, was allegedly paying for sex inside a strip-mall massage parlor.
"We are as equally stunned as everyone else," Kerr said.
Kraft lives in Massachusetts and has a home in the Palm Beach area. He is a frequent guest of President Donald Trump at his Mar-a-Lago Club. Though a Democrat, Kraft is friendly with Trump.
"Well it's very sad. I was very surprised to see it," Trump said at the White House on Friday. "He's proclaimed his innocence, totally. But I'm very surprised to see it."
Kraft's wife, Myra Hiatt Kraft, died in 2011. He has been dating 39-year-old actress Ricki Noel Lander since 2012.
Team owners are subject to the NFL's personal conduct policy, and owners and league employees are held to an even higher standard than players.
Indianapolis Colts owner Jim Irsay was suspended for six games in 2014 after he was arrested on drug charges. He was also fined $500,000.
Vero Beach Police Chief David Currey, whose agency has been involved in the investigation, told reporters earlier this week that the prostitutes are victims who have been trapped into the trade.
"These girls are there all day long, into the evening. They can't leave, and they are performing sex acts," Currey said, according to TCPalm. "Some of them may tell us they're OK, but they're not."
Kraft, who made his initial fortune through a packaging company, was a Patriots season-ticket holder when he purchased the team's previous stadium in 1988, then used his leverage to buy the team for $172 million in 1994 to keep it from moving to St. Louis.
He hired Bill Belichick to be his coach in 2000, and the team subsequently drafted quarterback Tom Brady, launching nearly two decades of success.
Under Kraft, who also owns Major League Soccer's New England Revolution, the Patriots have been the most successful team in pro sports, having made it to 10 Super Bowls, winning six, including this year against the Los Angeles Rams.
But there also have been issues involving team actions under Belichick.
In 2007, the Patriots were caught filming signals from New York Jets coaches; New England was suspected of doing so against other teams as well, and that was confirmed later on. NFL commissioner Roger Goodell fined the Patriots $250,000 and stripped them of their 2008 first-round draft pick. Belichick was fined $500,000, the most an NFL coach ever was fined.
In the 2014 AFC Championship Game, the team — specifically Brady — was accused by the Colts of doctoring footballs.
The NFL concluded that Patriots employees were involved in deflating the footballs and Brady was "at least generally aware" it was being done. After lengthy legal battles, Brady served a four-game suspension at the beginning of the 2016 season and the Patriots were fined $1 million — the heftiest for a team in league history. New England was stripped of a first-round and a fourth-round draft choice.
Neither Kraft nor Belichick was implicated after the investigation.
Longtime Patriots captain Devin McCourty told NBC Boston, which is with him on a goodwill trip to Puerto Rico, of the Kraft news: "When you see things come out like that you really have to just let it play out. See what it is, what it isn't, and go from there."
Information from ESPN's Paula Lavigne, Mike Reiss and The Associated Press was used in this report.